Home Remodeling Services in Chattanooga
Join us, and let's transform your housing dreams into a reality together!
WATCH WHAT TO
EXPECT WITH US
Seamlessly blending form and function is our unwavering creed. At Craften Home Services, we understand this. Our residential remodeling solutions infuse your space with aesthetic allure and practicality, ensuring that design never takes a back seat to functionality. We cover the entire process in three easy steps:

Home consultation
Our technicians will address your requirements, assess your space, and unveil transformative ideas tailored to your vision. Plus, you'll receive a no-obligation quote during the appointment.

Preparation
We will meticulously prepare your home, ensuring a clean and organized workspace. As experts in the field, we'll skillfully handle all essential repairs and rejuvenation required for a flawless process.

Installation
Once your tailor-made products are ready, crafting your exquisite new space begins. Witness the magic unfold as we execute the project in a matter of days, ensuring minimal disruption to your routine.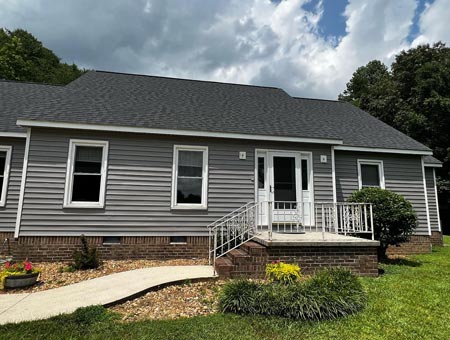 Start your remodeling journey now!
Transforming your home should never induce stress. With Craften Home Services, embarking on a seamless and hassle-free remodeling experience is within reach. Our process ensures not only striking aesthetics but also unwavering safety.
In exterior renovations, securing a successful outcome from the outset is paramount. At Craften Home Services, our unwavering commitment lies in delivering top-tier products, skilled services, and unparalleled customer support. Our licensed team comprises local, adept professionals with a wealth of experience, all dedicated to ensuring your project's success. Our goal is to provide top-notch services at fair prices. We do this by focusing on what you need most: quality and communication.
Over time, weather exposure and unpredictable storms can lead to substantial roof deterioration, ultimately necessitating a replacement. Enlisting a qualified roofing team is crucial if you're facing a worn-out roof or aiming for an upgrade to enhance durability. Entrust your significant roof installation project to Craften Home Services for proficient execution. With budget-friendly options, we make the installation process as stress-free as possible.
Elevate your home's exterior with the benefits of professional siding installation. Our skilled team efficiently installs and replaces siding materials, ensuring resilience and visual allure. Our expertise protects your property against inclement weather, including rain, wind, and extreme temperatures. We will inspect your home, review material options, and discuss your requirements and budget. If you prefer, we can gather measurements remotely with your help.
As the warmer months arrive, people naturally gravitate towards their decks to relish the outdoors. Before indulging, assessing your deck for safety concerns like loose railings or damaged boards is crucial. Craften Home Services comes here: your solution for top-notch deck repair services, ensuring a secure and visually appealing space throughout the year. Are you looking to create a new deck? We've got you covered on that front, too. Let us help you!
Experience our highly sought-after interior and exterior painting services that epitomize professionalism. Irrespective of the project's size, our flexibility ensures it's completed within your timeline. Our investment in optimal equipment and training streamlines work in occupied spaces, minimizing disruptions. Jumpstart the process with a complementary painting quote, and our team provide you with the quality you expect in a timeline that's unexpected!
From reconfiguring walls to their removal or restoration, our expertise has you covered. If you seek a seasoned contractor adept in drywall work, your search ends here. Our portfolio extends to expert renovation and remodeling services, spanning diverse disciplines, assuring you of results surpassing your expectations.
Window & Door Installation
If you need window or door replacements for your properties, you have come to the right place. We focus on all types of exterior and interior remodeling and repairs. We want to simplify life by offering everything you need in one location.
If you want to give your home a fresh look, our specialized team caters to your needs. Our extensive array of options for painting services matches your preferences. What truly sets us apart is our commitment to adhering to your timeline, expertly managed by our dedicated project management and consulting team. We go beyond by providing diligent guidance, ensuring your tranquility while we handle the rest. Elevate your interior renovations with the assurance of Craften Home Services – your ultimate peace of mind partner.
Interior Painting Services
Experience our house painting services tailored to your timeline. Our focus is on delivering exceptional solutions complemented by unparalleled customer service. Our utmost dedication is to simplify the process of enhancing your building and work diligently, ensuring your project adheres to the intended schedule.
Our primary goal is to give value to our clients from start to finish. From the first time you contact Craften Home Services to your final walk-through, we will convey these three things to you:

We Respect Your Home and Family Like Our Own
We are homeowners and understand the trust it takes to allow someone you may not know onto your property and into your home.

That means showing up when we say we will and working tirelessly to finish within the targeted and communicated time frame.

We know what it means to work within a budget and are happy to construct our proposals to fit your target. Additionally, you do not need to worry about hidden costs. Our quoted price is the final price.
Chattanooga is more than just a place for my family – it's our roots, our heart, and we aspire to witness the city thrive and its residents flourish. Years spent in the construction industry and fostering connections unveiled a demand for top-tier exterior services, and recognizing our potential, we launched Craften Home Services, driven by the vision of delivering remarkable solutions and shaping a community where homes evoke pride and ownership. Our ultimate mission is to contribute to the enduring development of our beloved city.
Established in 2021 by Bryan Casey, Craften Home Services emerged from the escalating need for superior exterior solutions. We aim to serve the Greater Chattanooga Area with remodeling services that stand upon the pillars of excellence and a commitment to treating our clients with the utmost respect and unwavering integrity.
We possess the necessary resources and cutting-edge technology to delineate project scope better and ensure the most accurate pricing. Our collective mission revolves around instilling peace of mind by fulfilling the fundamental human requirement for shelter.
Effortless and Fast Complete Home Remodeling!
Whether you desire a contemporary touch with trendy exterior house painting, enhanced roof, new siding, or a combination thereof, our professionals can transform your home hassle-free. Our commitment is to deliver the desired style and essential functionality without compromising on beautiful design, ensuring your dream home becomes a reality.
Why Your Neighbors Trust Us
The work is second to none and they went way above and beyond what they were required to do. They were more interested in making it look right than just getting it good enough. ‍ The crew was extremely fast and efficient! For a job others were saying would take three days they had done in one day.
Absolutely the best, I was amazed at the commitment to service and attention to detail. I could not recommend them more strongly.
Absolutely the best, I was amazed at the commitment to service and attention to detail. I could not recommend them more strongly.
We had a wonderful experience from beginning to end! The company owner and team worked hard to meet high quality work and ethical standards, and they took amazing care of our house -our floors and furniture were carefully protected. We were updated throughout the whole process with pics and videos, which was a nice touch! We will be using them again and recommend them without reservation.
Please fill out the form below to schedule your estimate. If you have any additional questions, please call or text us.